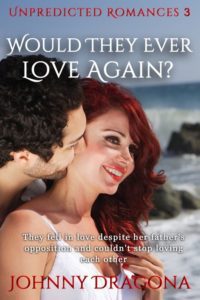 Happy release day to Johnny Dragona with Would They Ever Love Again?. Tis is the 3rd book in the Unpredicted Romances series.
They fell in love despite her father's opposition and couldn't stop loving each other.
When Joey was eighteen, two street punks tried to pick a fight with him and wound up getting the worst of it. The next night, Laura, who was sixteen, confronted Joey and warned him to stop picking on her older brother. It didn't take long for them to start dating. Nor did it take long for them to fall deeply in love with each other.
The problem was Laura's father, an émigré from Ireland, hated Italians almost as much as he hated Catholics. And Joey was both. Their romance didn't last long. Laura was grounded indefinitely after her father found out what she was doing.
But Laura and Joey get together again sixteen years later, despite the threats of an admirer of hers to kill Joey. Can they pick it up from where they left off?
Reader Advisory: Contains ethnic prejudice, some violence and descriptions of sex.
Available from all good distributors and from Luminosity HERE