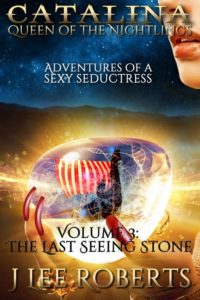 Happy release day to J. Lee Roberts with The Last Seeing Stone. Volume 3 from the highly erotic series, Catalina, Queen of the Nightlings.
Aboard a mythological vessel that can morph its size to accommodate as many warriors and weapons as its burly, blond Captain requires, hordes of delectable elves desperately yearn for the one thing that will bring them salvation. Their only hope lies with a sexy succubus who is more interested in having a good time than saving the day. As the enchanted ship sails off into the sunset, a scandalous seductress finds herself caught up in the middle of an epic quest.
Surrounded by the stuff of legends, Catalina reveals how fine of line reality and mythology really walk. Although she is torn between the man that loves her, the man that wants her, and an unquenchable appetite she cannot appease, Catalina must set her personal life aside, and use her seductive powers of persuasion to save the world.
A magical voyage awaits those with the courage to join the Queen of the Nightlings on one of her many escapades. Each complete tale is steamier than the last leaving the reader burning for more.
Available from all good distributors and from Luminosity HERE