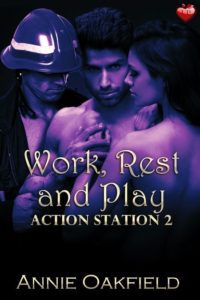 Happy release day to Annie Oakfield with Work, Rest and Play (Action Station 2). An M/M, M/M/F Romance.
A rookie joins a group of seasoned firefighters — and gets wet in more ways than he thought possible.
Rookie Firefighter Jensen Brother has survived his first week at the Rutherford Fire Station. The colorful characters of Green and Blue Watches have given him training, friendship and the sort of life coaching he could never have envisaged in his wildest dreams.
Now on active duty with Green Watch, Jensen has little idea of the adventures that lie before him, but it is highly likely to involve naked bodies, hard muscles, and wetness . . .  perhaps even the occasional female fantasy.
READER ADVISORY: A M/M, M/M/F Romance containing nude scenes and intimacy between male firemen. Showering with your work buddies will never be the same again.
PUBLISHER NOTE: Continuous storyline. HFN ending. 16,900 words.
Available from Luminosity CLICK HERE