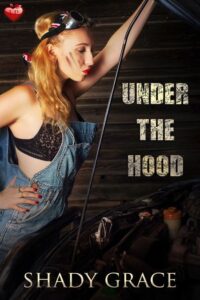 Happy release day to Shady Grace with another exciting short story, packed with adventure and romance.
Andi Thomas has a problem. These days her boyfriend seems distant, and selfish in the bedroom. Add on the fact that he doesn't respect her job as a mechanic because she's a woman. To make matters worse, a gorgeous stranger moves in next door, and he's everything her boyfriend isn't. What's a woman to do when she's had enough?
When Darren Holloway discovers the fiery vixen next door is the very person he's been looking for, he's caught between his need to strike a business deal, and the immediate urge to have her. He finds himself falling for Andi fast . . . and finding interesting ways to convince the beautiful grease monkey that he's the one thing she'll never have to fix.
PUBLISHER NOTE: M/F Erotic Contemporary Romance. Short Story. 11,700 words.
Available from Luminosity CLICK HERE
Available from major distributors CLICK HERE