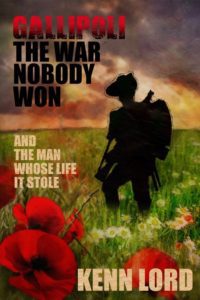 Happy release day to Kenn Lord with Gallipoli: The War Nobody Won . . . And the Man Whose Life It Stole. A World War I Biographical account of Gallipoli. A war where both sides suffered 250,000 casualties.
When the Great War broke out in 1914, Charles James Frewen-Lord—Charlie Lord to his family and mates—was a young jackaroo in a small Australian town in Queensland. He answered the British Empire's call for help because he reasoned that if the Empire fell, Australia, as a British dominion, would fall too.
Charlie Lord enlisted in the 5th Light Horse Regiment and fought in the battlefields of Gallipoli. His diary records the horrors, the blood, and the blunders in graphic sequence for 131 days. He stood tall for his country and the people he loved.
He did it with his heart and lived with what it took from him.
Regret and anger were never part of his life; neither was a damaged spirit. Heroes do not have to be Hercules or Samson. Sometimes they can be ordinary human beings who, when tested, can be bigger than both of them.
This story is based on my father's diary, to conversations at home during his surviving years, and to my mother's reminiscences after his death in 1967. I have recounted his opinions and details of his experiences. To the best of my knowledge, I have faithfully represented him.
PUBLISHER NOTE: World War I Biographical of 65,000 words. An emotional account, based on Charlie Lord's diaries of the time, Gallipoli: The War Nobody Won reveals the true cost of battle. Written by the man who knew him, Charlie Lord's son, Kenn Lord.
Available exclusively on Amazon CLICK HERE