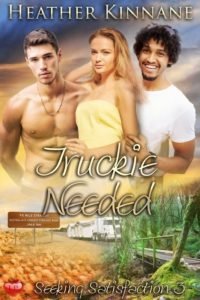 Happy release day to Heather Kinnane with Truckie Needed. When Mattie embarks on a journey across Australia, she has the road trip of a lifetime with not one but two sexy companions to keep her warm at night . . .
Mattie has bought a tiny house, intending to drive it across the country to land she's bought interstate. But Mattie doesn't take into account the fact that the tiny house is on the back of a truck, and she doesn't have her truck license.
What to do? An ad in the local pub brings Ned and Jack into her life — two very eager and sexy young men who've been travelling around Australia and are more than happy to drive Mattie and her tiny house across the continent.
They might be leaving Western Australia's deserts behind and heading to the chilly island state of Tasmania, where even in spring there is still snow on the mountains, but inside the tiny house, things are only heating up.
PUBLISHER NOTE:  Ménage à trois, M/F/M, Interracial. Anal sex, threesomes, oral sex. 34,400 words.
Available from Luminosity CLICK HERE