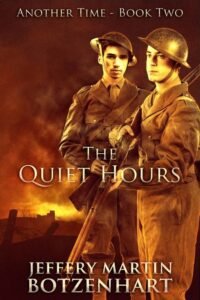 Our latest release by Jeffery Martin Botzenhart is a poignant reminder of the sacrifices made by our forebears during the First World War. We should never forget . . .
When I am at my darkest, you are my light.
There is no hiding in war, leaving hearts exposed to unfathomable dangers. Two English soldiers suffer such vulnerability as they attempt to survive this cataclysm. Having carried out a secret love affair before the Great War began, when reunited on the Western Front in 1916 France, both promise to protect each other so their hidden love affair may continue at war's end. Yet as they set out to escape the carnage of battle, they find more reasons to survive.
After saving an autistic boy from the brutality of enemy snipers, he leads the soldiers to others like him who are also in need of their protection. Casting their fate with these young autistic boys, the soldiers devise a plan for all to escape together. The war proves relentless, though, in hindering their efforts. Only when the gunfire and bombs fall silent during the quiet hours, might they discover their means for escape.
READER ADVISORY: This book contains scenes of battlefield wartime violence.
PUBLISHER NOTE: M/M HISTORICAL ROMANCE. 12,300 words.
Available from Luminosity CLICK HERE