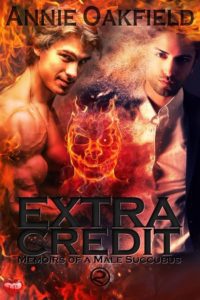 Happy release day to Annie Oakfield with Extra Credit, the 2nd story in the highly entertaining erotica series, Memoirs of a Male Succubus.
Samuel Driver had been a thug, a thief, and a career criminal — until the moment he got killed. His violent escapades secured him a place in Hell, but his fighting spirit earned him a reprieve, and a chance to walk the Earth once again.
Contracted to become a male Succubus — a reaper of masculine life forces — Sam discovers a hidden talent for seducing men. He becomes so proficient, his demonic caseworker singles him out for a special task, one that will earn him extra credit and even improve the conditions of his demonic contract.
But the task is far from straightforward, and Sam must summon all his guile in order to seduce a specific man, a campaigning anti-gay politician described as 'completely and utterly one-hundred-percent heterosexual.'
Tough gig.
PUBLISHER NOTE: M/M PARANORMAL ROMANCE. 15,500 words
Available to purchase from Luminosity HERE