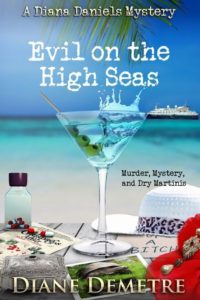 Happy release day to Diane Demetre with her latest novel, Evil on the High Seas. Murder, Mystery, and Dry Martinis abound in this Cozy Murder Mystery.
Murder, Mystery and Dry Martinis
There's evil on board the luxury expedition ship, the Silver Galapagos, but no one suspects it. Except for Diana Daniels, a successful management consultant whose rare insight into human behavior and highly developed intuition tell her that not all the passengers are seeking a carefree holiday. Though still struggling with the recent loss of her husband and honoring his request to scatter his ashes in the Galapagos Islands, she becomes intrigued by a mysterious woman in white who arrives at the port of departure.
After discovering that the woman in white is Celeste Constanzo, widow of deceased Mafia boss, Joe Constanzo, Diana is warned away from the notorious crime family by fellow traveler Detective John Nash. But because of their shared widowhood, Diana finds herself inexorably drawn to helping Celeste when the mysterious stranger confides her fear of being murdered by her three adult stepchildren.
When Celeste, along with five-million-dollars-worth of jewelry disappear after the Captain's cocktail party, Diana is certain that her suspicions have been realized. With Detective Nash's reluctant assistance, she embarks on her own journey to solve what she's sure is the murder of the woman in white.
But without a body, her theory is impossible to prove. With multiple suspects and only a couple of days until debarkation, will Diana find the jewelry, the body, the author of the anonymous letters, and the murderer who's still on board?
With no other choice but to step up and forge a new single life for herself, Diana employs her exceptional skills and gritty determination to solve the mystery of evil on the high seas.
PUBLISHER NOTE: A Cozy Murder Mystery of 77,500 words.
Available from Luminosity CLICK HERE
Available from major distributors CLICK HERE