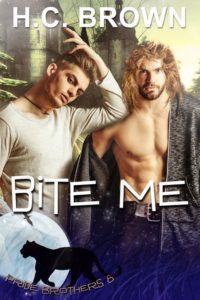 Happy release day to H.C. Brown with the 8th book in the Erotic Paranormal series, Pride Brothers. Bite Me continues with a Fantasy Gay Romance.
Cat shifter, Prince Heath of Knight Watch enjoys dominating his lovers and using the whip. Although, surrounded by highly erotic males, he has not been able to find a suitable mate amongst his kind.
He extends his search to the Nomag—human—world and by using illegal magyck kidnaps Callum.
Heath must introduce Callum to his strange world of cat shifters and BDSM lifestyle, then hope his delicious lover will fall in love with him.
Reader Advisory: Gay Paranormal Romance, BDSM, M/M, M/M/M, Anal Sex, Exhibitionism
Available from Luminosity HERE