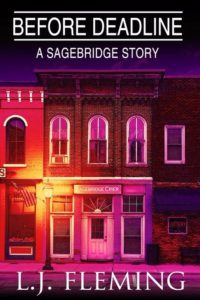 Happy release day to L.J. Fleming with Before Deadline: A Sagebridge Story. When murder comes to the sleepy town of Sagebridge it takes a special kind of heroine to make the paper's deadline and solve the case.
Margo Hemsworth, a small-town reporter, finds herself covering a murder investigation, the first in 20 years in the town. Through following the story, Margo is thrust into a difficult situation as her father, James, is preparing to represent Kinser Alvin, the lone suspect.
Kinser, a long-time troublemaker, and all around bad boy, has just returned to Sagebridge after several run-ins with the law. After making his home with his aging mother, he is now wanted for murder.
When Margo's need for sex without attachments comes around to bite her in the backside, there is only one person left to pick up the pieces, and another with murder on his mind.
Will Margo be his victim or will someone come to save her from the clutches of death before it's too late?
Reader Advisory: An Action Thriller Romance of 11,996 words
Available from Luminosity HERE