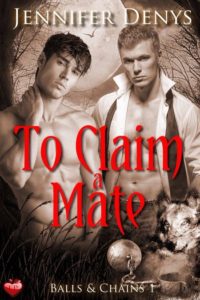 Happy release day to Jennifer Denys with a Paranormal BDSM Romance called To Claim a Mate. This is the first book in a brand new series called Balls & Chains.
Cross the threshold of Balls & Chains, into a world where humans and shifters dominate and submit alike.
Cole Linley is a gay wolf-shifter. In order to appease the Alpha within, he has taken up the BDSM lifestyle and become very experienced. This placates his wolf to a certain extent, but his dearest wish is to find a mate—male, of course. Except, the question is, how to find one in a city surrounded by humans where other wolf-shifters are rare.
Then, one night, he enters Balls & Chains, a BDSM club he frequents, and immediately senses another of his kind. And not only that, it is the scent of a potential mate, Jared Gray. There is only one problem—Jared is collared by another Master.
Jared's relationship shows all the signs of an abusive relationship. Can Cole get him away from the other Dom and show Jared the delights of BDSM when done properly and what it means to be a beta wolf to Cole's Alpha?
Reader Advisory: The submissive in this Gay Paranormal BDSM Romance doesn't realize he is in an abusive relationship until he meets his true Master.
Balls & Chains is an open series for submissions from interested authors. Please follow this link for more information. HERE
To Claim a Mate can be published from Luminosity HERE