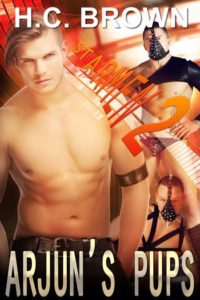 Happy release day to H.C. Brown with Arjun's Pups, the 2nd book in the exciting and adventurous Sci-Fi world of the Starmen series. A perfect blend of Science Fiction and Gay BDSM Romance.
Big Brother is watching every kinky move they make.
After Deon's Artificial Intelligence module breaks down, Arjun must travel back to the future to collect the alloy he needs for the repair.
To gain access to a probe due to land on Amun 2 in the next few days, he must volunteer as a Dom in an experiment in multiple partner male-on-male sex run by the Klebs.
Arjun discovers the Klebs are using the "experiment" as an excuse to run a live feed BDSM porno channel around their world and gives them a performance they will never forget.
PUBLISHER NOTE: M/M, M/M/M, BDSM, Time Travel, Sci-Fi Romance. Contains erotic scenes including, Anal Sex / BDSM / Bondage / Public Exhibitionism / Sex toys
Available to download HERE