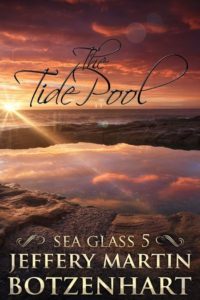 Happy release day to Jeffery Martin Botzenhart with The Tide Pool, an inspiring short story. This is the 5th book in the Sea Glass series.
If you treat me like glass, then that's all I'll ever be
Having battled cancer since the age of five years old, Erin, now nineteen, sets out for a few days to experience life on her own for the first time. Though now in remission, the 'death watch' lingering in her parents' eyes are just as lethal to endure. She needs an escape.
While walking along a road, deep in the forest, she meets Noah. After helping him change a flat tire on his small camper, he drives them both to the Oregon Pacific coast. This is where life begins for her, she thinks.
There at the beach both reveal to each other the personal demons haunting them. For Noah, it's the untimely death of his beloved brother, and for Erin, it's an escape from cancer. As the hours continue, the instant attraction they shared grows into a deep love for each other.
Should they break free from the past and those still clinging to it?
PUBLISHER NOTE: A Contemporary Romance featuring healing of the mind, body, and soul. M/F. 11,000 words.
Available from Luminosity CLICK HERE