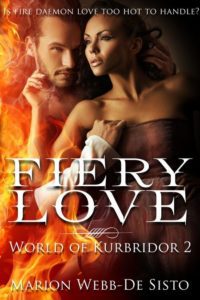 Happy release day to Marion Webb-De Sisto with Fiery Love. Fiery Love is the second book in the World of Kurbridor series.
Is fire daemon love too hot to handle?
One day, while working in her cake store on the magical world of Kurbridor, Beccah Simpton is threatened by a demgel. This half demon, half angel person wants to abduct Beccah and make her his sex slave, but other customers enter the store before he is able to do more. He says he'll return at another time. For protection, Beccah hires a fire daemon, named Garr, from the local Protection Division. She's afraid of the daemon, but realizes she needs his protection.
Garr becomes her protector and is more than willing to fight the threatening demgel, yet also extremely servile toward her. He feels attracted to his new charge; she in turn begins to lose her fear and is drawn to him.
Will the demgel come back and try to capture Beccah? If so, can Garr defeat him? And can a human and fire daemon look beyond their differences and find love?
Reader Advisory: A servile, yet fierce hero, and a down-to-earth cake-baking heroine. Ingredients for a dish that's tasty and hot.
Fiery Love is available from all good distributors and Luminosity HERE