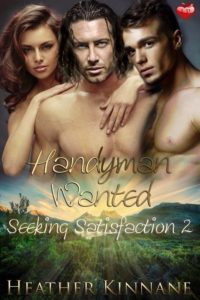 Happy release day to Heather Kinnane with Handyman Wanted, the 2nd book in the Seeking Satisfaction series. If you like sexy stories that breathe life into your erotic Ménage M/F/M and M/M/F fantasy, then this one is for you.
Sally is new to the area, and she's not only looking for love but also someone capable of helping out around the five-acre property she now calls home.
In a moment of desperation, she places an advertisement on the local online buy/swap/sell page: "Handyman Wanted; preferably single ;)"
Ryan is in an open relationship with the love of his life, Nathan. Both bi, they keep their relationship open to allow them to sleep with women if the opportunity arises, but also as a cover—Nate's been hurt by homophobia before, and he fears the locals knowing the truth about his and Ryan's relationship.
When Ryan and Sally meet, there is an instant attraction. It doesn't take much to convince Sally to join the men for a threesome—just for fun. Though Ryan is keen to make things more permanent, it takes a near tragedy for Sally and Nate to move past their fears and discover their feelings for each other.
PUBLISHER NOTE: A Contemporary Erotic Romance containing adult scenes, including, M/F, Ménage M/F/M and M/M/F. 27,134 words.
Available from Luminosity HERE