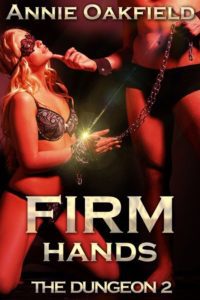 Happy release day to Annie Oakfield with Firm Hands, the 2nd installment of the highly erotic series, The Dungeon.
Angie Henderson has landed her dream job as a security guard at The Dungeon, the low-key underground adult playground.
The Dungeon is crammed full of temptation, and an irresistible force pulls her toward the naked pleasures enjoyed by the clients. Indulgence is something her new employers have forbidden to her. Female security guards may assist clients, and monitor their activities, but must never cross the line and become involved.
But when Angie offers to show another colleague the delights of voyeurism, it triggers a series of events beyond either of their control. If they are caught breaking the rules, their jobs are forfeit.
PUBLISHER NOTE: Contains scenes of a sexual nature, including orgies, foursomes, M/F/M/F/M, lesbian F/F. 16,247 words.
Available from Luminosity HERE