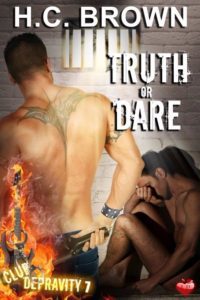 Happy release day to H.C. Brown with the 7th book in her highly successful Club Depravity series. Called Truth or Dare, the story follows the perfect pairing of Blake Davenport, lead guitarist in rock band Satan's Army and wannabee gay sub, Rohan.
Blake Davenport, the lead guitarist of Satan's Army, is obsessed with a fan who attends every concert and stares at him with expressions of unbridled lust. He convinces the band to hold a "Meet and Greet" before they go on stage in the hope of meeting his sexy fan.
His dreams of taming the delicious red-haired man fall flat when Syn, the bass guitarist, recognizes him as his straight friend, Rohan. Refusing to give up, Blake sidesteps the fact, Rohan is not only straight but also Mistress Valerie's sub and makes it his business to prove the very hot fan is not only gay, but in desperate need of his expert guidance.
 Reader Advisory: Join in a game of "Truth or Dare" Dom style.
Available from Luminosity HERE