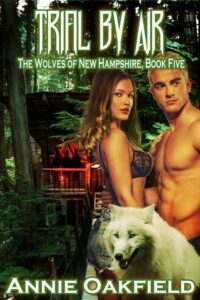 The fifth story, TRIAL BY AIR, in The Wolves of New Hampshire series is now available. This Paranormal Epic keeps getting better and better. Things are definitely hotting up in the forest.
If you go down to the woods today. . .
City girl, Nadia St. John's world is turned upside down when she learns the exclusive country club she works at is home to a politically-charged pack of wolf-shifters, led by her uncle.
Assailed by deadly premonitions of a grim future—which she alone has the power to change—the clock is ticking to prevent approaching tragedy and destruction which throws the future of the pack into serious doubt.
As if her secretive and forbidden love for a young shifter wasn't stressful enough, the rate of attrition in the deadly Sammenføjning Trials has reached tragic proportions, threatening the safety of her lover.
From somewhere, Nadia must find the strength to endure another day or surrender her body to the remaining competitors to prevent further bloodshed.
Reader advisory: Paranormal Romantic Suspense story describing women who surrender themselves to handsome, muscular shifters, and sometimes each other. Contains nudity.
PUBLISHER NOTE: M/F, Multiple Partner, Paranormal Romance. 23,500 words
Available from Luminosity CLICK HERE