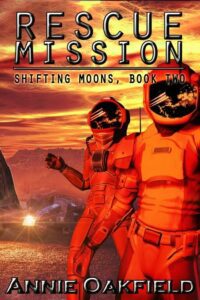 The latest book by Annie Oakfield in her highly erotic science-fiction adventure series, Shifting Moons, is Rescue Mission.
Mars is a long way from being a dead world.
After all contact is lost with three previous missions, NASA turns to the US military in an attempt to prepare a crew for whatever dangers lurk above, on, or below the red planet.
Consisting of four ex-military astronauts, the new mission launches, carrying a powerful ace in its sleeve.
But the new crew remains unaware that plans are already underway to subvert their attempt from several directions, one of which is designed to test their willpower—and their libidos—to the maximum.
Can the crew put their out-of-control desires to one side long enough to complete their investigation, or will the same challenges which doomed the previous missions rise to haunt the three survivors now living on Mars?
READER ADVISORY: If you are easily offended by the previous story featuring six astronauts having frequent and messy sex with men, women, and transgenders . . . you'll probably be offended by this one too . . . and so will your friends.
PUBLISHER NOTE: Contains erotic scenes — Voyeurism, MMF, F/F, M/M, transgender sex, and nudity. 38,500 words.
Available from Luminosity CLICK HERE