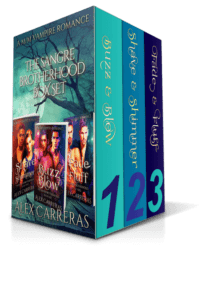 Happy release day to Alex Carreras with The Sangre Brotherhood: Box Set. This collection contains all three stories in the highly entertaining Paranormal Romance series: Buzz & Blow, Shave & Shimmer, and Fade & Fluff.
A M/M Vampire Romance collection of three favourite The Sangre Brotherhood books from the series: Buzz & Blow, Shave & Shimmer, and Fade & Fluff.
In Sangre, Florida, vampires and humans live in a peaceful co-existence until a string of murders starts to threaten their tranquil way of life:
BUZZ & BLOW
All Asher Riots wants to do is work at Everlasting, the salon where he styles hair nightly, with his friends Jerrod and Tory.
But when Niko Torres, the new barber at Killer Kuts across the street, begins to show an interest in Asher, his predictable life starts to become unpredictable . . . and dangerous.
SHAVE & SHIMMER
Tory Whitmore was tired of dating the wrong vampires, so he agreed to allow his friend Asher Riots to play cupid.
After a great first date with hot and hunky barber, Ray Williams, the two head back to Ray's for some much-needed adult pursuits. But when the chips are down, and pants are too, Ray chills as Tory heats up. Rejected and discouraged, Tory wants to forget the date ever happened, but things change when he learns the reason behind Ray's cooling jets.
FADE & FLUFF
Jerrod Zaman, vampire and hairdresser extraordinaire, settled in Sangre, Florida to forget about his past, but Kairon who owns the barbershop across from Jerrod's salon refuses to let him.
Kairon Brody still loves his ex and would love to rekindle their on-again-off-again relationship, which is a problem since his ex does not feel the same way. Kairon wants to convince Jerrod that they should get back together before possibly losing his eternal life at the hands of Alderman, a vindictive vampire who, with Jerrod's help, Kairon thought he'd killed months earlier.
PUBLISHER NOTE: A M/M Vampire Romance containing all 3 stories in the series: Buzz & Blow, Shave & Shimmer, and Fade & Fluff. 63,704 words in total.
 Available from Luminosity:  CLICK HERE