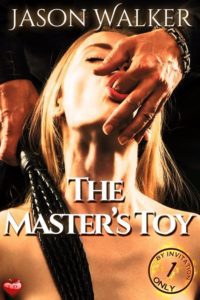 Happy release day to Jason Walker with The Master's Toy. This is the first story in a new BDSM series, By Invitation Only. Jason's beautifully crafted story focuses on the lives revolving around "The Club"–an exclusive BDSM setting for the more discerning of clientele.
Ashley Wallace had an accident. By losing control of her car, she set in motion a series of events that would not only change her life but the lives of many others along the way.
Introduced to the domination and submission lifestyle, Ashley soon found that the best relationships can grow out of giving oneself over to someone—completely. Her role in the lives of these people was to be that of a "plaything," but it quickly becomes so much more.
Reader Advisory: Contains scenes of domination and submission, and acts of pure pleasure.
Publisher Note: Full-length novel, BDSM Multiple Partners Romance. 78,409 words.
Available from Luminosity HERE