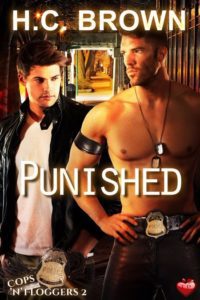 Happy release day H.C. Brown with the red-hot Gay BDSM Romance, Punished. This is the 2nd book in the highly successful series, Cops 'n' Floggers.
Bad boys, bad boys
When Vice Detective Del Hood receives a call out to investigate a muscular, tattooed man in black hanging around the entrance to a sex shop, he believes the smart-mouthed Danny Rose is trouble with a capital T. Problem is the moment he pats him down and runs his hands over his hard body, a connection between them sizzles.
Could Danny be the arrogant, wisecracking sub of his dreams?
Reader Advisory: This Gay Romance series contains scenes of BDSM and hot sexy undercover vice cops out to find their perfect subs.
PUBLISHER NOTE: M/M BDSM Romance, containing themes of flogging, and bondage. 14,919 words
Available to buy from HERE