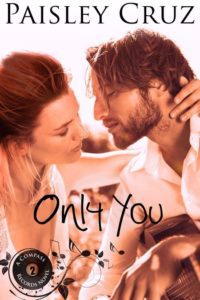 Happy release day to Paisley Cruz with Only You. This is the 2nd book in her Nashville-based romance series, A Compass Records Novel.
Summer Arlington has it all, a great record deal and two albums under her belt, but she wants more. She wants to write her own songs and create an album that actually means something. Upon returning from her tour, she's tired and ready for a break but her label has something else in mind. They've scheduled her for a week of songwriting with Lawson Bentley—resident bad boy and up-and-coming songwriter. They start off a little rocky, but Lawson has a way of opening her up and finding the raw, in-your-face material to make a great song. Not to mention, he's sexy as hell, and even with all of his tattoos there's a protective side to him that makes him irresistible.
Lawson Bentley has wanted to be a country music star since he was old enough to pick up a guitar, but fate had a different plan for him in the form of songwriting. He's done well for himself and thought he had everything he wanted until Carter Landry dangled a recording contract in front of him to work with Compass Record Princess, Summer Arlington. True to his nature, he recklessly agreed with one stipulation, he couldn't sleep with her. After meeting Summer, making good on that term proves to be more than difficult.
Will Lawson give up his dream of a record deal to be with Summer? Will Summer finally get the album she's wanted?
Available from Luminosity HERE