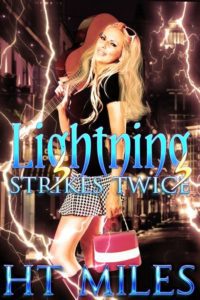 Happy release day to H.T. Miles with LIGHTNING STRIKES TWICE. A Contemporary Romance set against the backdrop of New Orleans.
Whether you call it Cupid's arrow or a Lightning strike, love hits just as hard!
The city of New Orleans casts its spell on both residents and visitors.  More than one world-renowned star has come to the city known as the Big Easy and never left.  The music, the culture, and the people will pull the visitor and the native son back time and time again.  A young retired musician picks his guitar back up and wins the heart of just such a visitor.  When the woman turns out to be a world-famous star of the silver screen sparks fly and yes Lightning Strikes!
READER ADVISORY: The reader should be warned, that visiting New Orleans, LA, can affect your moral compass; depictions of various sex acts in this book are by consenting adults.
PUBLISHER NOTE: Contemporary Romance. 72,938 words in total.