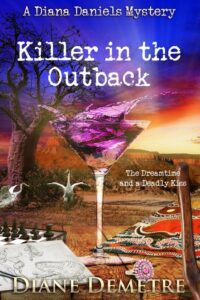 Our latest release is a new Diana Daniels Mystery called KILLER IN THE OUTBACK. Can our highly intuitive female sleuth detect the killer before it is too late?
The Dreamtime and a Deadly Kiss
She's a widowed, city-slicker businesswoman. He's an enigmatic Aboriginal elder. Will they find the killer in the Outback before another murder is committed or will they be too late?
Traveling to the timeless Australian outback has long been on Diana Daniels' bucket list. With her husband's death now two years behind her, she heads off on a well-earned vacation to the ancient Kimberley region in northern Western Australia. Accompanied by Mimi, her zany, artistic sister-in-law, Diana plans to trek the imposing gorges, relax in her luxury cliffside retreat, and experience the enchantment of the Aboriginal Dreamtime.
But her plans are soon shattered when a young Aboriginal girl goes missing under suspicious circumstances. As if by design, Diana is commissioned by the girl's grandfather, Tommy George to solve the mystery under the skeptical watch of the local police headed by Senior Constable Mitchell. Against the lavish backdrop of an international art festival and surrounded by a group of secretive guests, Diana finds herself running out of time. She knows a killer lurks among them, and it's up to her to solve the mystery before more guests are murdered.
Killer in the Outback is the second installment in the Diana Daniels Mysteries. If you are a fan of Agatha Christie-style 'whodunnits' and page-turning plots, then you'll love this clever, cocktail mystery by award winning author, Diane Demetre
PUBLISHER NOTE: A Cozy Murder Mystery of 75,500 words.
Available from Luminosity CLICK HERE
Available from major distributors CLICK HERE