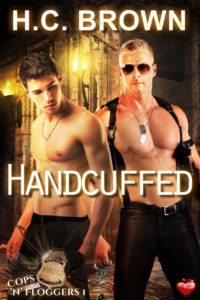 Happy release day to H.C. Brown with Handcuffed. The first story in a brand new BDSM Gay Romance series.
Bad boys, bad boys.
Rent boy, Maverick Slone, Ricky to his friends, finds himself in big trouble with an unsatisfied client in the back alley of Leathers BDSM Club. Little does he know the Nordic god stepping in to save him, is an undercover vice cop.
When Detective Tyler Speed offers him the chance to leave the streets behind, it sounds too good to be true, especially when the man making the offer is the Dom of his very naughty dreams.
Reader Advisory: This Erotic Gay Romance series contains scenes of BDSM and hot sexy undercover vice cops out to find their perfect subs.
PUBLISHER NOTE: M/M BDSM Romance, containing themes of flogging, and bondage. 16,005 words
Available HERE