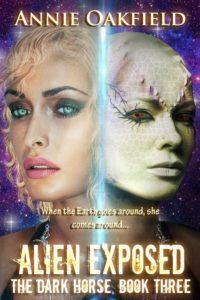 Happy release day to Annie Oakfield with Alien Exposed, the 3rd story in the Sci-Fi Erotica series, The Dark Horse.
When the Earth goes around, she comes around.
Aurora Silvestre is the child of a human father and a TauCetean mother, and is blessed with superior strength, intelligence, and lightning-fast reactions.
But the aggressive alien DNA will assume control of her human body — unless she mates with a human every four days.
Her life is further complicated when a series of attacks rock Quincy, and when all the evidence points toward a TauCetean female, Aurora is forced to re-evaluate her life at The Dark Horse bar, and her relationship with the local police.
READER ADVISORY: If you are easily offended by the idea of a half-alien woman seducing men and having frequent, messy sex . . . this might very well be your kind of thing.
PUBLISHER NOTE: Continuing storyline throughout the series, with Happy for Now Endings. 26,941 words.
Available from Luminosity CLICK HERE