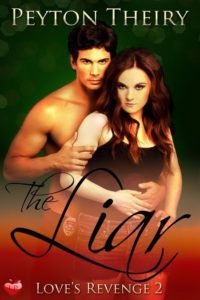 Happy release day to Peyton Theiry with The Liar, the second story in the Love's Revenge 2 series. This wonderful story, weaves together revenge, BDSM, and forbidden love. The perfect combination for curling up in front of the fire for a warming read.
Sherriff Dave Lambert is a Dom out for revenge. Will Lane Britt submit willingly to his game?
Sherriff Dave Lambert is a Dom out for revenge on the woman who lied, ruining his life. With Lane back in town, Dave has devised the perfect plan for retaliation to get her on her knees. Despite his strategy, he never expects to feel an intense attraction for the woman he wants to destroy.
Small town USA is not ready to forget that the Britt girls are liars. Branded by their lies, Lane has come face-to-face with the man she secretly loved but ultimately destroyed. Lane knows she needs to fix the mess she made but saying "sorry" will not be good enough. Will she be willing to do everything Dave wants to make this right?
As a Dom, Dave prides himself on his ability to maintain control. When Lane walks back into his life, his control snaps. Will Lane submit willingly without love or will he have to break her heart too?
Reader Advisory: This book contains scenes of dominance and submission, including sex toys, a stubborn hero out to get revenge, and a feisty hero determined to win her man.
Find out more HERE