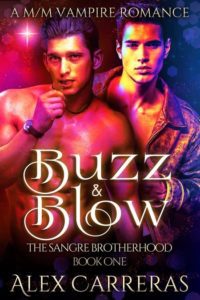 Happy release day to Alex Carreras with Buzz & Blow, the 1st story in a M/M Vampire Romance series called The Sangre Brotherhood.
In Sangre, Florida, vampires and humans live in a peaceful co-existence until a string of murders starts to threaten their tranquil way of life.
All Asher Riots wants to do is work at Everlasting, the salon where he styles hair nightly, with his friends Jerrod and Tory.
But when Niko Torres, the new barber at Killer Kuts across the street, begins to show an interest in Asher, his predictable life starts to become unpredictable . . . and dangerous.
While attempting to clear Niko's cousin, Mario of involvement in the murders, the barbers and hairstylists band together to do what it takes to save Sangre and possibly themselves.
It's hard trying to stay alive when you're immortal.
PUBLISHER NOTE: A M/M Vampire Romance
Purchase from Luminosity  Buy Book