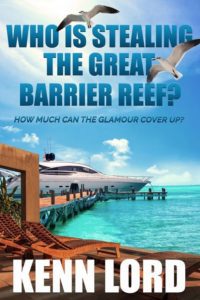 Happy release day to Kenn Lord with his fantastic rollercoaster suspense, Who Is Stealing the Great Barrier Reef? Expect an international mystery, fantastic locations, and a host of characters out to thwart a million-dollar crime.
HOW MUCH CAN THE GLAMOUR COVER UP?
DARK SHADOWS IN THE GARDEN OF EDEN
In the eternal sunshine of Australia's Gold Coast, three people are connected to a strange fatal accident on the Great Barrier Reef — JAMES BLAINE a free-flying private investigator; HOLLY SANCHEZ, a bewitching enchantress, and Iron Man TONY ALLISON, a surfing hero with the world in his arms.
Beneath the headlines, there lies a dark secret that ties the incident to the glamour of Deriobar Cay, The Barrier Reef's dazzling luxury resort.
A routine inquiry conducted by Senior Detective TIGER McCOLL, nails suggestions of sinister happenings on Deriobar, but bureaucratic interference prevents an inquiry.
McColl dispatches James and his sidekick, MATT BAKER to the luxury resort on an under-cover move that is complicated by James's dalliances with the mysterious Holly.
What follows is a roaring ride through a captivating world of champagne, coral gardens, private beaches, two-faced people, titillating sex, and a wild sea chase through the sapphire-blue waters of the Coral Sea's Whitsunday Passage.
Meanwhile, a monstrous plot that threatens the Great Barrier Reef, Australia and the South Pacific, hits the launch pad.
Reader Advisory: Steamy sex, party drugs, and juicy skulduggery lurk behind the splendour of the Great Barrier Reef's most luxurious resort, while a dastardly take-over plan threatens to break loose.
PUBLISHER NOTE: A Mystery Thriller Suspense of 79,500 words.
Available from Luminosity CLICK HERE