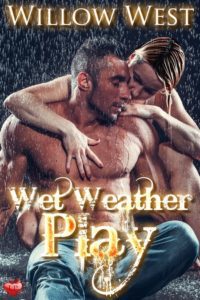 Happy release day Willow West with Wet Weather Play. This is a fabulous, short, erotic story that will make your heart sing. We do so love a man in uniform, and firefighter Nat fits the bill, perfectly…
Living in the gentle country town of Gorgon's Reach suited Thea until the rain began to fall and memories of a previous flood haunted her. The heroic arrival of the handsome yet arrogant firefighter, Nat, sparked feelings that Thea was trying to escape. Nat has left his soon-to-be-fiancée in the city who decides to pay a surprise visit.
Thea gives herself up to her desires; sure it will be the quick fling she needs to satisfy her lust. Feel the heat as these two unite and find a passion that neither can ignore.
Available from Luminosity HERE