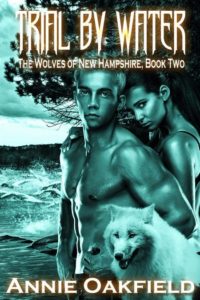 Happy release day to Annie Oakfield with Trial by Water, the 2nd in the best-selling Paranormal Erotica series, Wolves of New Hampshire.
Deep in the forest, things are getting damp.
Nadia St. John was an ordinary young woman, raised by her aunt and educated at the New England College in New Hampshire before seeking employment at an exclusive country club.
But Nadia's world is turned upside down when she learns about the local population of wolf shifters, and the fact that her uncle is one of them. So were her long-lost parents, and her brothers.
Events begin to roll along faster than Nadia can process, pulling her into a politically-charged world of conflicted wolf-packs, deadly premonitions and sibling subterfuge.
And is it already too late for her to escape the looming Trials?
Reader Advisory: Warning: This story contains accounts of women surrendering to handsome, naked men in a forest. If you are offended by sex, men, nudity or wolves, this will be a fun read.
PUBLISHER NOTE: Trial by Water is Part Two in The Wolves of New Hampshire series. For maximum enjoyment, the series should be read in order.
Available from Luminosity HERE