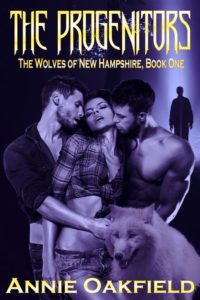 Happy release day to Annie Oakfield with The Progenitors. This is the 1st book in Annie's highly erotic shape-shifter  series called the Wolves of New Hampshire.
Nadia is a city girl, accustomed to an easy life. But in the forest, she finds some things are harder…
When Nadia St. John applies for the position of secretary at an outdoor adventure center in New Hampshire, she has little idea of the activities that take place at the isolated lodge, or of its convoluted and bloody history. But the women of her family are inextricably involved, playing their part in keeping the peace between the three wolf packs by offering their bodies to the rival Alphas.
A mysterious package, delivered on a stormy night by a half-dressed boy, tantalizes her with clues about her past, and her family's disappearance fifteen years ago. Will the self-styled Sean Ireland, center manager, protect her from her past, or force her to confront it?
And will she find the reason for her increasingly erotic dreams, where she stands in a wolf-infested forest, surrounded by naked men, all of whom seem intent on ravishing her?
Reader Advisory: This story contains accounts of women surrendering to handsome men in a forest. If you are offended by sex, men, or wolves, this could still be a fun read.
Available from all good distributors and from Luminosity HERE