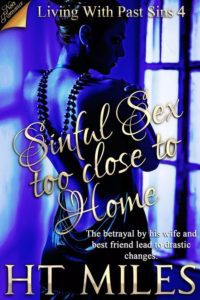 Happy release day to H.T. Miles with Sinful Sex too Close to Home. This is the 4th book in the highly erotic series Living With Past Sins.
The betrayal by his wife and best friend lead to drastic changes.
A wife just cannot help herself, she has to have just a little extra on the side. The husband's best friend chooses to 'help' the wife instead of telling his best friend. Once discovered, the length the wife goes to obtain forgiveness is truly admirable. Once the hero discovers he is not the only member of his family to have been cheated on, see the lengths is he willing to go, to protect his loved ones.
The sex is vividly described and involved with both men and women with an extra woman thrown in occasionally. A wife soon finds out just how demanding her husband is, once he is free to pursue other women, even her friends, much to her surprise. The reader will also see the lengths the rich go to get what they want.
Reader Advisory: This book contains highly descriptive acts of sex and violence, which is not condoned by this author. The bad guys may deserve it but ….
Available from all good distributors and from Luminosity HERE