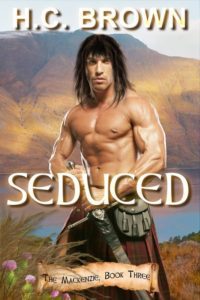 Happy release day to H.C. Brown with Seduced: The Mackenzie, Book Three.  This Erotic Highlander Romance concludes with a wonderful abundance of Scottish charm and tartan heroism. We can't wait for more in this Historical Highlander Romance series.
After escaping a pirate ship and an unwanted betrothal to a French baron, Lady Adrianna Beechwood may well be safe on land but is alone with a band of smugglers running from the law in the wilds of Scotland.
Finally reunited with the love of her life, she is distressed to find a rugged Highland warrior has replaced the refined, stylish Drew Mackenzie she fell in love with in London.
With her betrothed's men hot on her heels, she must flee with her Highlander, but will their love survive the troubles to come?
Available from all good distributors and from Luminosity HERE