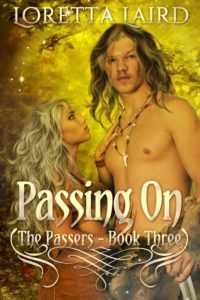 Happy release day to Loretta Laird with Passing On, the 3rd book in the epic paranormal fantasy The Passers.
The time has come for Erix, son of Adamen and Jadara, to embrace his destiny and take on his Passer training. Unfortunately, his mind is more preoccupied with the delights of local maidens than the burdens of leadership.
Verdily, equal to him in strength and ability decides to face her own demons and return to Zergain; the place that once held her captive. Dressed as the young male warrior, Ved, she meets the Air kin warrior, Ren. Strangely attracted to each other, the pair embark on a journey of trust and discovery.
As the sands of time begin to run out, Adamen and Jadara strive to rid the land of one last curse before they return to the Fire Hills of Dargoon drawn by the final call of the freegan.
Available from all good distributors, and from Luminosity HERE