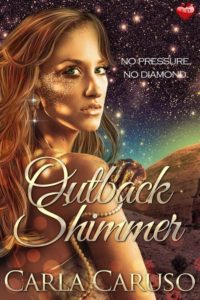 Happy release day to Carla Caruso with Outback Shimmer, an Australian Outback Romance brimming with humour and adventure.
No pressure. No diamond.
Burlesque performer Charlie Summer is on a mission.
She and her two best friends, known collectively as the "Bling Brigade", are taking their act on tour in the Australian Outback.
The aim is to raise funds for their own burlesque academy, so they can empower other women with confidence-building dance classes.
But their striptease skills won't, in fact, be the only thing funding the school . . . along the way they'll be thieving jewels!
Reporter Liam Chasewater finds himself in the Outback when he's down to his last chance. After screwing things up in love and at work, he's lost joint custody of his two-year-old daughter.
If he gets his next magazine assignment right — following the troupe on tour — he'll get his life back on track.
What Liam doesn't count on is sparks flying between him and Charlie. Though hooking up with an exotic dancer and interviewee, with suspicion wafting around her, won't look good on his record . . .
PUBLISHER NOTE: Outback Adventure Romance. M/F Mainstream content of 31,298 words.
Available from Luminosity CLICK HERE