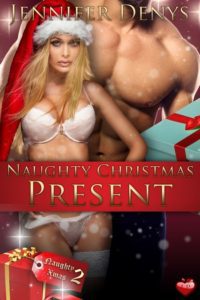 Happy release day to Jennifer Denys with Naughty Christmas Present, the second story in the Naughty Xmas series.
This is a tale of unrequited love . . . but will it be requited by the end? Of course, it will — this is a Christmas story after all!
The question is, how will Gren, a troll and bartender at Pogue's Bar, prove to Ligia — a beautiful blonde Siren — that he is the man for her? When unexpected circumstances bring them together, he jumps at the chance to give her a special Christmas present and show her that he is everything she needs. Will his present — a session in his personal S&M playroom — be enough? Or could her Siren song cause his death in the process?
Reader Advisory:  Festive Short Story, 11,000 words. M/F, BDSM, (M/F/M), Voyeurism.
Available from Luminosity CLICK HERE