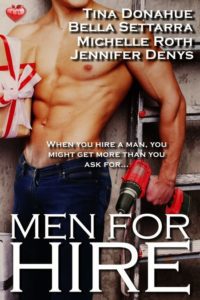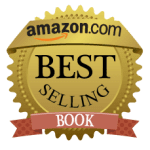 Happy release day to Tina Donahue, Bella Settarra, Michelle Roth and Jennifer Denys with Men for Hire. Way to go ladies, this erotic anthology of short stories is already hitting the bestseller lists on ARe and Amazon.
Men for Hire is an anthology of four delicious, erotic stories, each beautifully crafted for your enjoyment.
Got Muscle? by Tina Donahue
""""""""""""""""""""""""""""""""


It's so nice to have a hunk around the house…
As a recent transplant from New York, Bree's certain her company transferred her to the London office because she wasn't model-thin like the American staff. To rectify that, she's bought a home gym. Now all she needs is someone to put the bloody thing together so she can sweat herself into a micro mini.
David has muscle to spare. Tall, dark, and sinfully handsome, he's doing odd jobs until he gets his start-up off the ground. As far as David's concerned, Bree's lush curves don't need improving, just a man who can appreciate them. He'll definitely give her all the exercise she needs.
Ménage at Mealtime by Bella Settarra
"""""""""""""""""""""""""""""""""""""""'
Naomi Powell nervously prepares for a dinner party where she hopes to secure a lucrative deal with a new publisher. Her ex, Richard, is also attending with his new girlfriend, Naomi's best friend, Paula.
When Naomi hears a bird stuck in her chimney she urgently calls 'Men for Hire' for help. Two gorgeous guys, Aaron and James, come to her rescue. Not only do they solve her chimney problem, they woo her guests and give Naomi the time of her life—ménage-style!
However, when Richard announces that he wants Naomi back, will she follow convention or follow her heart?
Calculated Risk by Michelle Roth
""""""""""""""""""""""""""""""""""'
Stella Whitman has inherited her mother's country home. When she finds it in utter disrepair, her cousin suggests that she call Men for Hire in search of a handyman. When he arrives, she's somewhat shocked to find that his deep brown eyes and rugged good looks are giving her some very inappropriate thoughts.
Despite his instant attraction to Stella, Ian Starling has convinced himself that they need to keep things strictly professional. He's been burnt before and has vowed never again. It becomes increasingly more difficult as he gets to know her, though. Then one rainy night changes everything…
Marital Duties by Jennifer Denys
"""""""""""""""""""""""""""""""""'
Delighted her 'Men for Hire' business was doing so well, Jennifer wasn't expecting several of her clients to fall in love with her employees. At least they were getting sex. She was married and didn't even get that most basic of husbandly tasks.
An idea came to her, and she amusingly completed an employee request form, asking her husband to do his marital duties.
Rob was stunned when he received the form mistakenly sent out by Jennifer's assistant. Well, if his lovely wife wanted him to perform his duties, he would undertake them. Only, it wouldn't be what she was asking for…
43,756 words
Men for Hire is available from all good distributors and from Luminosity HERE