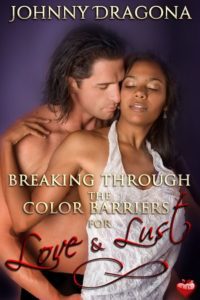 Happy release day to Johnny Dragona with Breaking Through the Color Barriers for Love and Lust. Lose yourself in this highly erotic romance.
Deserted by his wife and missing his daughter, John becomes infatuated with Olivia, an extremely attractive Puerto Rican woman who is much younger than he, but not without a river of hot, Latin blood flowing through her veins. The time they spend together moves from the kitchen, to the living room and to the bedroom.
Then they meet Cory and David, an African-American couple. At first, they socialize. Then they get closer and closer.
When Olivia discovers some unethical practices at the bank in which she's working, David, being an attorney, helps her. But why should she return to the bank when she can work for him? That brings them even closer.
Meanwhile, John and Cory, who are older students in the same college, schedule their classes so they can have the same day off to do their thing in his house.
Reader Advisory: Contains graphic descriptions of sex, and group sex.
Available from all good distributors and from Luminosity HERE