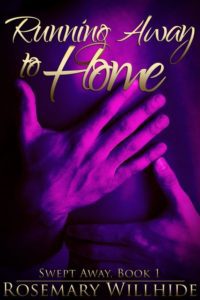 Happy release day to Rosemary Willhide with Running Away to Home; the first book in the highly erotic Swept Away series. Rosemary has taken a dream; her dream,  and woven it into a beautiful love story. How can anyone resist the intense attraction between Derek Pierce, a Hollywood heartthrob, and Nia Kelly, a fitness instructor with a secret past? Their world's collide and spin out of control.
The blurb:
If home is where the heart is, Nia Kelly is screwed.
The twenty-four year old fitness instructor nearly faints when Hollywood heartthrob Derek Pierce comes to her spin class at an exclusive Las Vegas sports club.
There is an instant spark, an undeniable heat between them.  But falling in love is not in her plan.  Nia is a girl who sticks to the plan.
She moved to Las Vegas to escape her past, a past with secrets that still haunt her.  A romantic entanglement with a celebrity like Derek will put both of them in danger.  She doesn't know if she will ever be safe, ever be free.
Then he looks at her with those gorgeous blue eyes, and is impossible to resist.  Her world flips upside down.
Reader Advisory:  Please be advised, the devastatingly handsome hero awakens our feisty heroine, she's super horny, all the time!
Running Away to Home is available from all good distributors, and Luminosity HERE