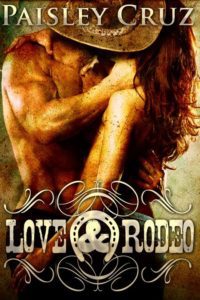 Happy release day to Paisley Cruz with Love & Rodeo. Love & Rodeo is an emotional roller coaster ride. Follow Levi and Kallie as they fall desperately in love only to realise they may not be able to have their happily ever after. If you love hot cowboys, rodeo, and a fast-paced story, you will love Love & Rodeo.
Kallie Davis has barrel raced her entire life up until six months ago when both of her parents were killed in a car accident on their way to watch her win her first world title. With an outstanding invitation to rejoin the circuit, she's determined to win enough money to adopt her younger sister and get on with her life. She returns, haunted with memories and dreams of her parents that just won't seem to go away. Running away from it all, she runs right into Levi Cavanaugh, and for the first time, the bad memories are chased away.
Levi Cavanaugh just got his ticket to the big times as a rookie bull rider, and he planned on spending most of his time partying—until he meets Kallie Davis. She's sexy and a completely different breed. Now all he wants to do is party with her. He knows she has a past and can't help but want to protect her from it.
Levi and Kallie pair up with one another exploring boundaries and living life, each week falling more in love. With the world championships just around the corner, Kallie has to choose between love or the only family she has left.
Available from all good distributors and from Luminosity HERE