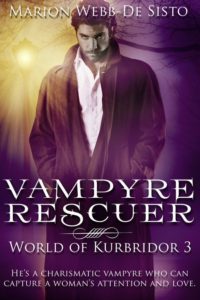 Happy release day to Marion Webb-De Sisto with Vampyre Rescuer, the 3rd book in the World of Kurbridor series.
He's a charismatic vampyre who can capture a woman's attention and love.
A woman named Delia, living on the magical world of Kurbridor, is attacked by two vampires on her way home from work. She's rescued by a tall, mysterious stranger who has followed her secretly for over a week. He's Herres, a vampyre, and she feels an instant attraction to him, but thinks he's only interested in taking her life-force essence. That is how vampyres feed.
Herres assures her she's wrong, saying he is genuinely attracted to her, but will she continue to think he's a dark vampyre who is only intent on taking her essence?
Reader Advisory: Can the heroine trust a vampyre who says she is his? Is she his prey or the love of his life?
Available from all good distributors and from Luminosity here.