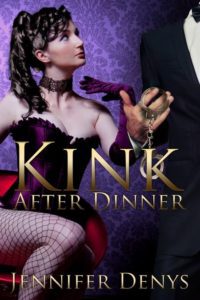 Happy release day to Jennifer Denys with Kink After Dinner. Follow the highly erotic story as Beth throws off her inhibitions.
Kink After Dinner. 8pm. Usual place. Wear the new purple basque – no knickers. Expect some SERIOUS (!) paddling. No touching until then. Master.
Beth hurriedly hides the note she has received so her family won't see it.
Her daughter regards her parents as stuck in the mud. If only she knew! When Beth decided to throw off her inhibitions she was able to thoroughly enjoy her middle years, despite the usual body issues, including attending a BDSM event and starting a relationship with a Dom.
Putting on her purple bustier and high heels as ordered, and covering up with a coat, she leaves her husband engrossed in his carpentry workshop to walk to a neighbour's house. This is the home of swinging couple, Alistair and Helen, with whom she's had several encounters over the past year. And this begins a wonderful evening of kink—bondage, spanking, paddling, handcuffs, and orgasm denial.
Then her husband turns up.
Reader Advisory: This book contains a heroine throwing off her inhibitions, taking a lover and having fun with BDSM in her middle age.
Available from all good distributors and Luminosity HERE