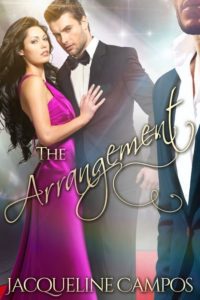 Happy release day to Jacqueline Campos with The Arrangement, an intriguing and highly erotic romance, following the love life of two A-list stars who masquerade as lovers for the sake of publicity. "The Arrangement" costs them more than they bargained for.
The hottest A-list couple in Hollywood, Julianne De Rossi and Blake Quinn, are young, talented, gorgeous, and in love. But, are they really? Blake is lusted after by the entire female population, but he is really into men.
And Julianne, stunning and voluptuous, every man's dream, is a man crazy hot-blooded woman. Julianne has needs and wants and must look to satisfy her urges wherever she can find it, discreetly. Can she be happy with only being a sexual toy for the hottest men in Hollywood? Will her arrangement with Blake Quinn interfere with her deepest yearning for a boyfriend of her own? Will she find a man to love her for whom she really is?
How long can Blake lie about who he is? Will he be satisfied with the random and anonymous sex easily found in Hollywood?
How long can they keep up the façade, or will they break "The Arrangement?"
Available from all good distributors and from Luminosity HERE