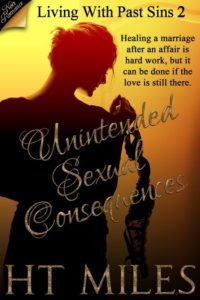 Happy release day to H.T. Miles with Unintended Sexual Consequences. This is the 2nd book in the Living With past Sins series. An erotic tale of what happens after a massive lie is uncovered.
Healing a marriage after an affair is hard work, but it can be done if the love is still there.
A husband and wife ignore signs of the wife's sexual frustrations for years until it is almost too late.
This is the story of the long road of her redemption, and her husband's willingness to forgive her and help her learn to cope with her sexual needs and the lengths the husband is willing to go to save his marriage.
Once the wife's affair is discovered, the couple explore ways of expanding their sex life in an orderly and controlled manner. The marriage survived and the love grew in spite of the affair.
The use of a professional therapist and learning how to cope to address sexual desires, cannot be minimized to get to the happy ever after.
Readers Advisory: This book contains depictions of sex, and is intended for mature readers over 18. The hero fights for his marriage with the use of sex toys, light bondage, and multiple partners.
Unintended Sexual Consequences is available from all good retailers and Luminosity HERE