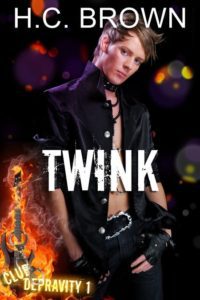 Happy release day to H.C. Brown with Twink. Twink is the first book in H.C. Brown's sexy new Gay BDSM series called Club Depravity. Featuring delectable rock stars and their equally sexy submissives, we follow each member of the club as they find the perfect mate or mates to explore their kink.
Raoul is the untouchable sub, the temptation few Doms get to taste. His pretty boy twink appearance and arrogance draws rock star Alec like a moth to the flame.
Master Alec loves a challenge and is determined to lure the haughty model into his dungeon and drive him to subspace.
Reader Advisory: Fasten your seat belt for a ride on the wild side.
Twink is available from all good distributors and Luminosity HERE