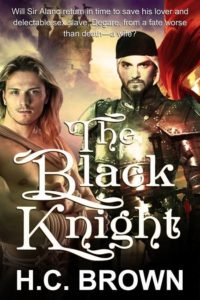 Happy release day to H.C. Brown with The Black Knight. The Black Knight is a deliciously wicked tale of star-crossed love between Degare and Alano. Two men caught between duty and the wish to be with the love of their life. Erotic Gay Romance, BDSM & Bondage, Medieval, Knights
Will Sir Alano return in time to save his lover and delectable sex slave, Degare, from a fate worse than death—a wife?
England 1075
Sir Degare Aucourte's heart belongs to the Black Knight, Sir Alano, the formidable warrior who taught him all a man could give to another. Degare becomes a slave to his handsome lover's erotic punishment and craves no other but after a month of bliss, Alano returns to Spain with his regiment.
Ordered by King William of England to marry an elderly Spanish countess, Degare must find a rouse to avoid the marriage bed. The last thing he desires in his life is a woman—let alone a wife.
Will the Black Knight return to mend Degare's shattered heart and resolve his intolerable situation?
The Black Knight is available from all good distributors and Luminosity HERE