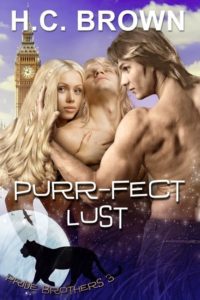 Happy release day to H.C. Brown with Purr-fect Lust. Purr-fect Lust is the 3rd book in the Pride Brothers series. A paranormal menage focusing on shape-shifters.
Prince Rio loves Tanz, but his cat demands he mate Aria, the human his King has ordered him to kill.
Aria d'Lion, author of bestselling books, The Fairy in My Garden, and Shape-shifters Are Among Us discovers to her horror that most of the things she's written about are true. The shifters have sent a deliciously handsome man to the book signing to kill her, trouble is the panther shifter is her mate. Too bad he is already in love with a man.
Hot sexy Rio has a list of kinky sex partners but one special man in his life. Aria turns his world upside down and he is torn between duty and love.
Available from all good distributors, and Luminosity HERE